It is one of the common complaints which a female can have.
This happens due to the disturbance in the normal vaginal pH and female hormone which alters the vaginal flora causing growth of the organisms leading to discharge.
So , if you are facing vaginal discharge along with symptoms like itching, irritation, unpleasant odour, burning while passing urine , then these are the signs of abnormal vaginal discharge and for the same you should visit the doctor.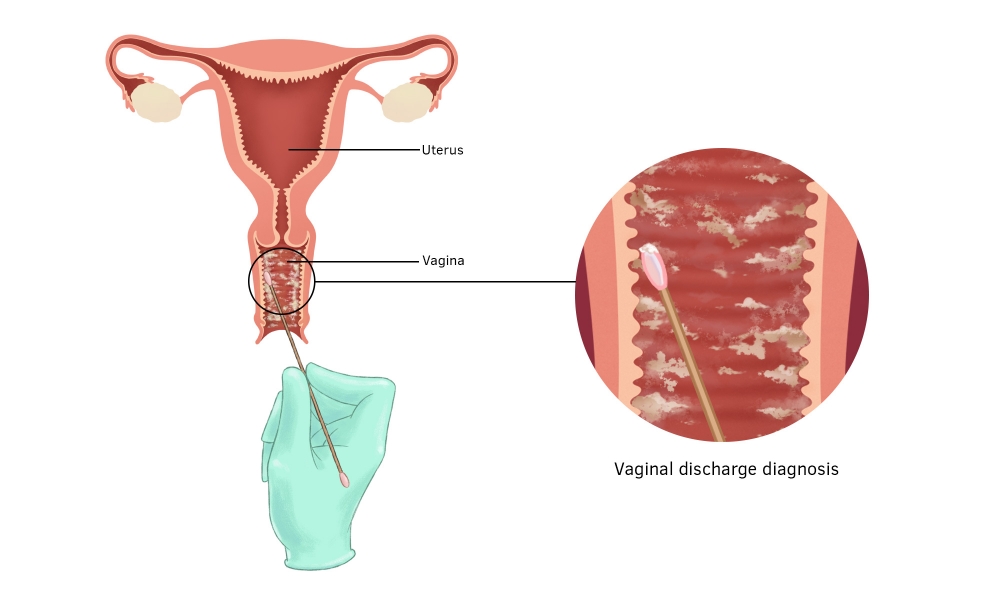 Cause for the same could be:-
Vaginitis
Cervicitis
PID
Foreign body
UTI
These could be due to
Bacterial: If the anaerobic bacteria outnumber, it upsets the balance of normal bacteria found in vagina , and this condition is called as bacterial vaginitis.
Other common cause of bacterial infection is Chlamydia, which is bacteria and is also a common sexually transmitted infection.
Fungal: also called yeast infection or candidiasis,is due to the overgrowth of the fungal organism.
Protozoal: This is the common sexually transmitted infection caused by a one-celled parasite called as Trichomonas vaginalis , so this kind of infection is also called as Trichomoniasis.
Viral( herpes simplex): Type 2 Herpes Simplex causes genital herpes, and is transmitted by any type of sexual contact. It also present with the symptoms like burning , itching and sometimes blisters or painful ulcers.
Noninfectious vaginitis: Any foreign objects, like tissue paper , tampoons may irritate vagina and vulva . Other products like vaginal spray , douching, soaps , spermicidal products also causes an allergic reaction.
Vaginal Atrophy: Menopause when the levels of estrogen is fewer causes thinning of vaginal lining which results in irritation and burning and dryness.
Diagnosis of the type could only be made after the examination and doing some routine test.
Once the diagnosis is made treatment is started and patient feels better.
So , when to see a doctor?
when you get vaginal discharge with either itch or bad odor.
If you have multiple sexual partners.
If you had vaginal infections in the past.
If you get fever, chills
If you get pelvic pain
If you have already taken the treatment but your symptoms still persist.
Best Gynaecologist for Vaginal Discharge Treatment in Gurgaon

Vaginal Discharge Treatment

Dr.Garima

Rated

4.8

/5 based on

374

customer reviews