One of the serious problems in women which results from an infection in bladder or uterus or urethra. This may cause pain in lower urinary tract as the infection is typically present in the lower urinary part. This is also called Bladder Infection. Not only the married, unmarried may also get suffered from UTI problems causing itching, and discomfort. This infection may sometimes spread to kidney so it is always better to consult with UTI expert to avoid spreading an infection to related areas or to cure the problems of the root.
Symptoms of Urinary Tract Infection
Knowing or analyzing the exact symptoms may not be easy, yet some of the common symptoms experienced by women are:-
Persistent need to urinate
Nursing sensation while urinating
Frequently urinating small amounts
Cloudy, red or smelly urine
pain in the bladder and pelvic region
Women suffering from UTI may face problems while getting pregnant. If UTI has spread from bladder to kidney, then some other symptoms may arise such as High fever, nausea, vomiting, uncontrollable shaking, chills, and pain inside & upper back area. Women facing such consequences or one or more of them are advised to seek medical assistance at the earliest to avoid more complications and risks. When women have two or more infection episodes within 6 months, she is required to consult with the nearest urogynecologist in Gurgaon for UTI or bladder infection.
Risk Factors of UTI & Urinary Tract Infection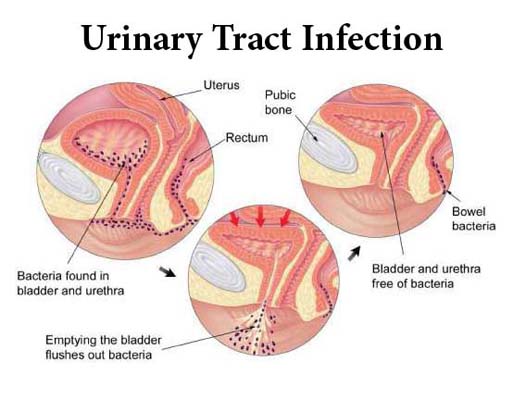 UTI is assumed to raise due to sexual intercourse and may transmit through unprotected sex. Other Factors are given below which may raise the risk of UTI or urine infection in bladder are:-
Kidney stones
Birth Control
Menopause
Suppressed Immune System
Use of catheter
Pregnancy
Use of Diaphragms and spermicide
The chances of Urinary infection may get higher due to the negligence of health issues and improper diets.
Treatment of UTI or Urinary Tract Infection
The doctor will prefer to treat the UTI patient with antibiotics or through medication at an initial stage. UTI is caused by the bacteria which may enter into Urinary Tract and may get multiplied in Bladder. Administration of antibiotics is preferred to treat the bladder infection and to prevent the disease before it spreads. One should get the treatment as early as possible so as to stop the infection. If the infection persists for long, it may permanently damage the organs.
Dr. Garima Sawhney is a committed lady doctor assisting the female patients with their personal health problems. While treating UTI or Urinary Tract Infection, she prefers to know the exact cause of bladder infection so that pelvic health can be improvised and future infection may be prevented. Being a female doctor as urogynecologist in Gurgaon, female patients feel comfortable sharing their health problems frankly and without any hesitation. Early diagnosis is necessary to stop spreading the problems. Call Dr. Garima Sawhney and she will tell you which treatment is better for you.
Best Gynaecologist Doctor for Urinary Tract Infection Treatment (UTI) in Gurgaon
Urinary Tract Infection or UTI
Dr.Garima
Rated

4.8

/5 based on

384

customer reviews