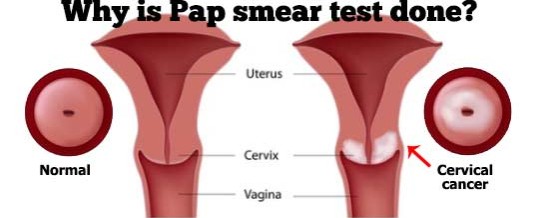 A Pap smear (also known as Papanicolau smear or Pap test or cervical smear) is a screening test for cervical cancer. It is done to check the abnormalities in the cells of the cervix. We all know, the cervix is the lower part of the uterus which connects it to the vagina. Pap Smear test involves collecting a sample of cells from the woman's cervix (the end of the uterus that extends into the vagina) during a routine pelvic examination. The collected cells are placed on a glass slide and stained with a substance known as Papanicolaou stain,the stained cells are examined under a microscope to look for pre-malignant (before-cancer) or malignant (cancer) changes. The test is usually done to :
reduce the risk of cervical cancer
Abnormal Pap Smear Problems:
While doing Pap Smear tests, various changes in size & shapes of cells can be noticed. One is Dysplasia which is not cancer but severe dysplasia might develop into cancer over a long period,if not treated on right time. The stage of Dysplasia can be classified as mild, moderate and severe. Cervical Intraepithelial Neoplasia or CIN is a term used to describe abnormal cervical cells. Mild Dysplasia or CIN-1 is due to infection with HPV (human papillomavirus). Moderate Dysplasia is termed as CIN-2 and severe Dysplasia is CIN-3. The regular examination is required to prevent cancer.
When to see the Doctor:-
There might be a question in mind- When Pap Smear Is To be Done? Every woman must go for the pap smear test to check for cervical cancer once in every 3 years if she of 21 age or older. Between the age of 30-65, one may go for the collective test of Pap Test and HPV test once in 5 years. Older than that, you may stop going for Pap Smear test as you are at low risk. Regular screening will help you to prevent cervical cancer. There are many cases in which Pap Smear test is must when women have been facing such risk factors as:-
Being HIV Positive (Carrying AIDS-causing virus)
Weak Immune System due to chemotherapy, organ transplant, chronic steroid use
Having a history of diethylstilbestrol (DES) exposure before birth
Having a history of abnormal Pap tests
hysterectomy when the cervix is not removed
During Pregnancy
Pap Test can be done during pregnancy so as not to raise the effects of cervical cancer. Pap smear test is not required for the women who have gone through the hysterectomy but whose cervix is removed.
How Is Pap Smear Done
To do Pap Smear, the woman is asked to undress below the waist portion and ask to lay down her back. The healthcare professional will examine the external genital and rectal areas including the Urethra (the opening where urine leaves the body) to assure that they look normal.
A Speculum is inserted through the vagina opening to view and examine the vagina and cervix
A sample is collected on the surface of the cervix as part of the Pap smear
Treatment of Dysplasia:-
If the result of diagnosis indicates seriousness, abnormal cells are removed through various treatments. Two treatments are popular to treat the Dysplasia:-
Wire Loop Excision which is done when abnormal cells are present in the endocervical canal
Cone Biopsy is done when a Pap smear results indicate abnormal changes in glandular cells, Abnormal cells are in the endocervical canal, or Early cancer is suspected.
An Expert Gynaecologist who has practiced in the same direction may perform the pap smear test in a protective manner to help prevent Cervical cancer.
Pap Smear Problem/ Cervical Cancer Treatment in Gurgaon
Pap Smear Test
Dr.Garima
Rated

4.8

/5 based on

391

customer reviews