The most awesome time in every woman's life when she undergoes with a situation filled with mixed emotions such happiness, nervousness, fear, anxiety, care, and stress. She needs love, care, and expert advice to tackle the medical complications. Dr. Garima is a well-known Obstetrician in Gurgaon offering professional pre-pregnancy and post-pregnancy treatment to the women for the safe delivery of a child.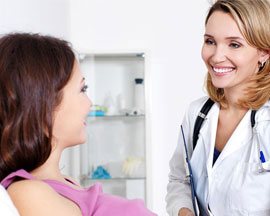 Antenatal Services:
"Got the good news about the pregnancy through home test?? " A pregnancy test can be done, my own through the home pregnancy test. Once you are sure about the pregnancy, it is recommended to consult with pregnancy or maternity specialist in Gurgaon. The counseling or meet can be done within 10 weeks of the pregnancy. Antenatal pregnancy services aim to help you to get healthy childbirth. The services will be offered to you after the 10th week of pregnancy tip the childbirth. It will include the quality assistance, adequate care, professional consultation, Yoga and physical exercise, stress management, nutritional advice, counseling, Diet etc. Women having pregnancy issues are also prescribed with some medications and minerals to have the safe delivery.
Pregnancy or Maternity Services:-
Dr. Garima is an expert obstetrician in Gurgaon offering quality obstetric, pregnancy and maternity services through professional approach and dedication. Pregnancy is taken as the most wonderful experience in women's lives , so, comprehensive and compassionate care is demanded the healthy growth of mother and child both. Be it normal delivery, Caesarean Delivery, High-risk delivery and painless delivery. The object is to deliver the child safely and with great care.
Caesarean Delivery Services:-
This is the surgical process which is also called C-section. In the Caesarean Delivery, incisions are made into women abdomen and uterus to deliver the baby through the abdomen, instead of vagina. This is done only if it is indicated.Following conditions may lead to C-Section or Caesarean Delivery if:-
Mother has already gone through C-Section surgery earlier
Baby is facing the problem of insufficient oxygen
Labour is not progressing
Mother facing pregnancy complications
Mother is carrying twins or triplet
Baby is in abnormal position
There is problem with placenta or umbilical cord
Baby has a health concern
Pelvis is not adequate for vaginal delivery
The doctor will always ask for your consent before going through the C-Section surgery. The obstetrician will ask you to feel comfortable and stay stress-free to have a healthy child.
Normal Delivery:-
Everyone prefer normal delivery of child but it happens only when mother and child are healthy. Normal delivery referred to a situation when a baby birth is through the vagina. it is also termed as vaginal delivery and is a natural way. Through our antenatal pregnancy services, we make ensure to have the normal delivery for the sake of healthy mother and healthy child. When a woman experiences labor pain ad cervix dilates progressively, this is the time to deliver the baby under the guidance of expert obstetrician and gynecologist. Examination at regular intervals is recommended to avoid complications.
Painless Delivery:-
Women are not generally in a stage to bear the severe pain so they prefer painless delivery. This is one of the innovative technology which is considered best for the painless delivery. In this method, Epidural anesthesia is injected around the spinal nerves in the Lower back to induce painless delivery of a child. It numbs the area below the point of injection and allows you to awake during delivery. Only trained professional will induce epidural anesthesia. Wrongly executed epidural anesthesia may lead to complications.
Second method for painless delivery is giving nitrous oxide (ENTONOX) through mask.
High-Risk Pregnancy:-
If mother or child has any health issue it may be taken as a high-risk pregnancy. Usually, the situation is found when a mother is suffering from Blood pressure issues, less weight, bleeding during pregnancy and many more reasons. Being High risk may put you in stress but it is just a way to get your special attention during pregnancy. Obstetrician, pediatricians, and anesthetists will make sure to save your best to avoid the high risk during pregnancy.
Induction of Labour:-
Sometimes pregnancy may overdue by 10 days or more but she is unable to feel any labor pain. So labor or contractions are induced artificially with the help of Prostin gel, Artificial Rupture of the membranes (ARM) or using Hormone Intravenous drip (oxytocin). Your caretaker will ask for your consent before inducing labor. It is always required to determine the situation of the baby and examine the baby heartbeat. The sudden inaction of labor may have adverse effects on the mother or baby so utmost care should be kept in mind.
Postnatal Services:-
Once the baby is delivered, extra care is given to the mother and the child. With the combined help of medical consultant specialist in obs & gynae, paediatrics, nutrition and physiotherapy, comprehensive care is given to the mother and the child. The expert will let you know how to hold the baby, how to feed with through breast or directly, how to sit while breastfeeding, etc. The doctor will also examine the condition of body weight, depression, stress, or any other health issues.
Dr. Garima, being a female obstetrician in Gurgaon, may help the pregnant women to be comfortable while consulting with her. If you are planning to conceive or your pregnancy days are near, contacting the nearest obstetrician will help you have a healthy life and healthy child. Have a safe and happy Pregnancy!!
Obstetrician Pregnancy
Dr.Garima
Rated

4.9

/5 based on

354

customer reviews