TYPES OF MATERNITY TREATMENTS SERVED BY DR. GARIMA SAWHNEY- EXPERIENCED OBSTETRICIAN
Pregnancy or Maternity Treatment-
Pregnancy is a very delicate phase in women's lives so, comprehensive and compassionate care is demanded for the healthy growth of mother and child both .For a professional gynecologist main objective is to deliver the child safely and with great care whether it is a normal delivery, Caesarean delivery, High-Risk delivery or Painless delivery.
Caesarean Delivery Treatment-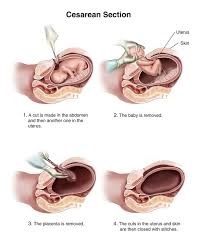 This is a surgical process which is also known as C-Section, It is the delivery of a baby through a surgical incision in the mother's abdomen and uterus to deliver the baby through the abdomen, instead of vagina. Following conditions/complications forces doctor which may lead to C-Section or Caesarean Delivery if:-
Mother has already gone through C-Section surgery earlier.
Baby is facing the problem of insufficient oxygen inside the mother's womb
Labour or contractions are not progressing.
Mother facing pregnancy complications.
Mother is carrying twins or triplet off springs.
Baby is in abnormal position inside the mother.
There is problem with placenta or umbilical cord of baby.
Baby has a health issues/concern.
Pelvis is not adequate for vaginal delivery.
Normal Delivery Treatment-
Everyone prefers normal delivery it can happen only when both baby and mother are healthy. Normal delivery is natural way of delivery through our antenatal services, we ensure to have the normal delivery for the sake of healthy mother and healthy child.
Painless delivery Treatment-
Women are not generally in a stage or prefer to bear the severe labour pain so they prefer painless delivery. This is one of the innovative technologies which are considered best for the painless delivery. In this method, Epidural anesthesia is injected around the spinal nerves in the Lower back to induce painless delivery of a child. It numbs the area below the point of injection and allows you to awake during delivery and help in painless delivery. Second method for painless delivery is giving nitrous oxide (ENTONOX) through mask is also very popular.
High Risk Pregnancy Treatment –
If mother or child anyone having health issue then it is considered as high risk pregnancy. Usually, the situation is found when a mother is suffering from high blood pressure issue, less weight, bleeding during pregnancy etc. Obstetrician, pediatricians, and anesthetists will make sure to give proper treatment to avoid the high risk pregnancy problems and safe delivery.
Induction of Labour Treatment-
Sometime pregnancy may overdue by 10 days or more but she is unable to feel any labor pain. So labor or contractions are induced artificially with the help of Prostin gel, Artificial Rupture of the membranes (ARM) or using Hormone Intravenous drip (oxytocin). Dr Garima Sawhney is experienced, trained, caring, dedicated and family oriented doctor. She is trained, skilled and has an excellent clinical and surgical approach to the patient condition. She can handle any critical pregnancy conditions.
Various Pregnancy or Maternity Treatments in Gurgaon